Updated 8/22/2019
Please be sure to visit the companion document and learn how to build a B2B eCommece store.
Some functions and features of ecommerce stores are similar, whether you have a B2B ecommerce store or a B2C ecommerce store. Many, however, are distinctive because selling to other businesses is often different from selling to consumers.
You shouldn't have to adapt your business processes or procedures to fit in with the functionality of a shopping cart solution. Instead, your B2B ecommerce store should meet the needs of your business directly.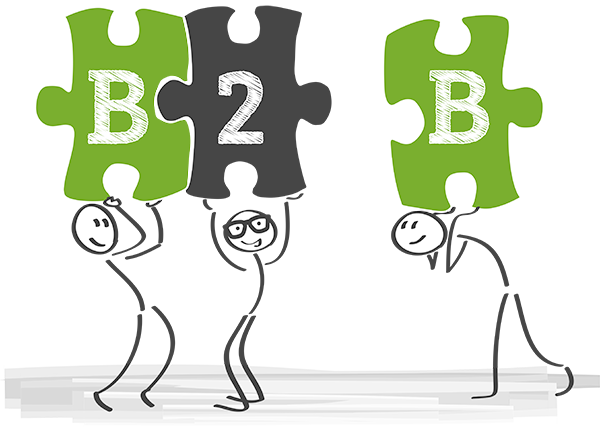 Here are 12 features you should look out for when looking at ecommerce solutions for a B2B store:
1. Complex Pricing
With a B2C ecommerce website, pricing is usually simple as every customer gets the same price. B2B ecommerce websites are different as you have varying arrangements in place for different customers. It could be because of the volume of business you do with them, the frequency of orders, or the type of products they buy. You may also have different pricing arrangements in place at the order level, regardless of who the customer is. Your store needs to have functionality that can handle whatever pricing model you have, however complex.
Discounts can be offered in a variety of ways. Use member pricing, volume or purchase discounts, coupons, and more.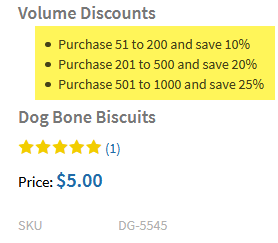 2. Bulk Discounts
Bulk discounts are a common feature of B2B businesses. They are a way of encouraging higher order values and building customer loyalty. AbleCommerce makes aforementioned as easy as possible with built-in bulk discount functionality.

Discounts are shown with the product purchase information. They can be based on the quantity or purchase amount. Discounts are extremely flexible and can be applied to all products in the store (globally), and at the category and product level, where the discounts can over-ride discounts at higher levels. Different discount structures can be applied to member groups.
3. Minimum Order Quantities
In addition to policies like discounts for buying in bulk, many B2B stores also operate a minimum order value for all or some of their products. Minimum order quantities are often essential for managing margins and ensuring you remain profitable. Your ecommerce solution should have this functionality too.

4. Customer Registration
Customer registration is an essential feature for B2B ecommerce stores, but it should have specific functionality aimed at businesses that sell to other businesses. This means the ability to set different pricing levels based on the contracts you have in place with individual customers, or based on groups of customers. You should also be able to do the same with minimum order quantities, payment terms, discounts, shipping arrangements, and other settings.
A login section of the store also lets you hide particular products and block individual purchases, particularly for customers who are not registered. You can also put in place order tracking, and target the customer with personalized promotions.
5. Tax Exemption
Tax exemption is a complex area in all ecommerce stores because of the way the internet makes it easy to find and sell to customers in other countries. It is even more complicated in a B2B environment as some customers don't pay tax, and some products are tax exempt. You need the flexibility to handle all of these issues in your ecommerce store.

6. One-Click Reorder
Registered customers should be able to see their order history when logged into their account on your store. They should also be able to reorder with a single click, saving them time and grows their loyalty to you.
7. Flexible Payments
Having flexible payment options is an advisable feature for any ecommerce store, but it is particularly important for B2B businesses. You probably offer multiple online methods of payment, but what about offline methods of processing a payment? An example is ordering with a purchase order number and then paying on 30 days' credit. If you offer this or similar payment options to all or some of your customers, your ecommerce store should be flexible enough to accommodate it.

8. Mobile Responsive Web Design
Mobile devices are more and more frequently used to purchase from B2B websites. Mobile devices are also frequently used in the research phase of your customer's buying process. Your ecommerce store should, therefore, look great on mobile devices. All the features of your store should also work on mobile.

9. Intuitive User Experience
Most people in business are under time pressure. You can increase the appeal of your website if you make it as easy as possible to find your products, find information, and complete the purchasing process. You can achieve this by making the website intuitive with clear navigation and a powerful search feature. Also, the checkout process should be as quick and straightforward as possible.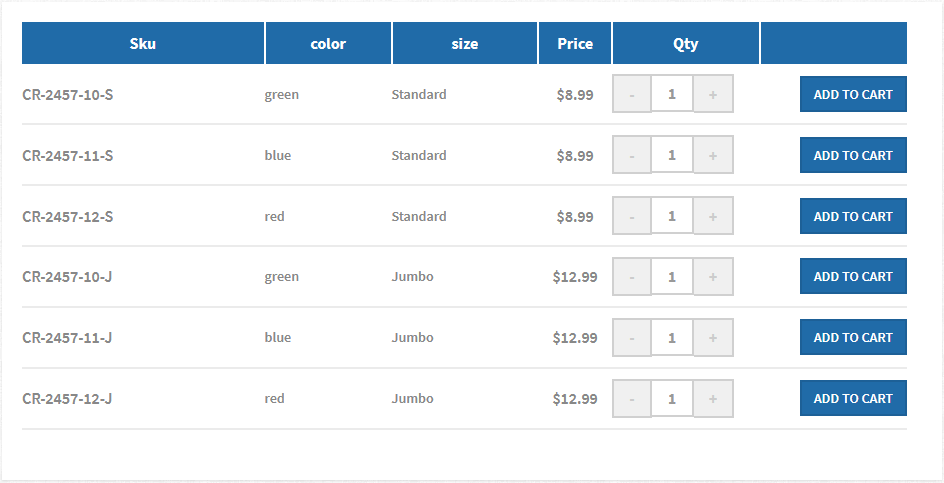 10. Marketing Tools
It is essential to continuously market to your customers to stay front of mind, build loyalty, upsell, cross-sell, and win repeat orders. Your ecommerce store should make this as easy as possible. In particular, it should be easy to promote particular products or product ranges on your website.

Most businesses today do a great job of marketing their products and services online, but there are still some that have a poor website presence or none at all! But maybe you still do a great job with your social media channels, such as Facebook, Twitter, Pinterest, etc. which is great! But you can only say so much with short updates to your followers. To have a successful online presence, you'll need to have a website (eCommerce and/or Content Only) with a social media integration!
Building a great website is easy. All you need is to write fresh (not copied) new (daily is best) quality (useful) content that you can talk about in your social media channels. eCommerce could be optional, but if you have something to sell, then it's absolutely possible to begin selling online in a matter of minutes.
11. Real-time Inventory Updates
Real-time inventory updates are the only way you can be sure that your customers get the most accurate information. This builds trust in your brand, encourages repeat sales, and improves levels of customer service. Real-time updates also improve your inventory management, especially if you operate a just-in-time business model.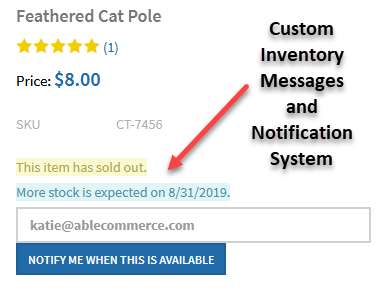 Inventory systems needs to be accurate and able to track products with options or variants, since that is how products are typically sold online.
12. Full Customization
Most ecommerce solutions offer multiple features, but they do it in a rigid way. To get the most from your store, however, it needs to adapt to the way you do business, not the other way around. That means you should be able to customize it to match your business logic and processes. Some examples include:
AbleCommerce includes features for sales reps, such as the ability to place orders on behalf of their clients, order samples, or check inventory.
Giving customers the facility to request a quote, particularly with sophisticated or customizable products that are hard to define with a fixed price.
The ability to check and approve orders before they get fulfilled.
Custom branding so the store looks like your brand, not like all the other stores using the same ecommerce platform.
You may not need all the features and functionality listed here, but they are all common to B2B business models. The crucial point is that you need an ecommerce solution that is built for B2B sales or has powerful B2B functionality. AbleCommerce is one of the solutions which includes all the features and functions described above so it is adaptable to any B2B store or selling situation.